Being A Responsible Pet Owner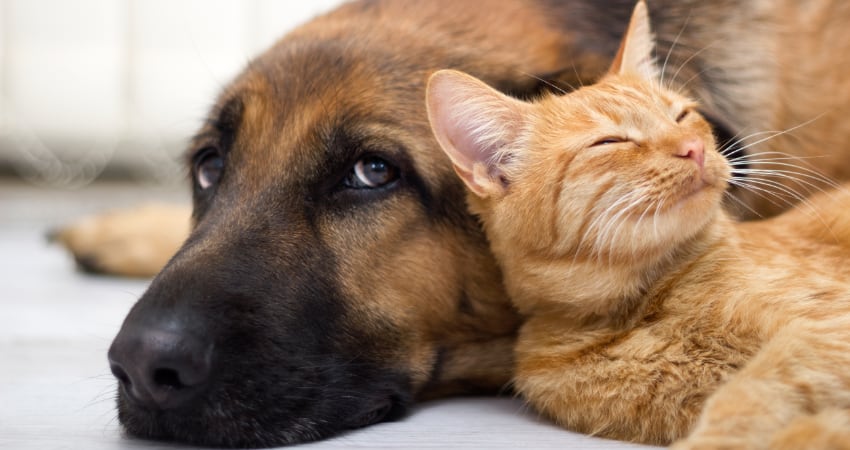 The Apartment search is a difficult task in itself, include a pet to that and it can get even more stressful. Even though J.C. Hart Company has on property pet policies; these ten simple tips to becoming a responsible pet owner and earn the respect from your fellow neighbors.
Clean-up your pet's waste. This may be the most noted area of improvement for pet (mainly dog) owners. As a fellow pet person, it can be notably disheartening for there to be another dog person to refrain from picking up their dog's waste when you make a point to do so. And what about the rest of the community who don't have a dog? It's fair to assume it's not only bothersome but annoying for them. The green space of a Community should be able to be walked without concern for everyone. Thankfully, all J.C. Hart Communities have a dog station with doggie bags readily available and a trashcan too.
Be aware of where your pet is actually doing their business. Dog urine can ruin grass and if Fido is using the same space day after day, you may find a bare patch starting to form. It takes a team to keep apartment grounds looking beautiful – you can help keep it that way.
Keep your pet on a leash. If you live in Indiana, it is actually the law to leash your pet outside of your home. Leashing your pet not only keeps others safe, but also you and your furry family member. While Fido may be very well behaved, Fluffy around the corner may not understand another dog running towards it and lash out. Your dog may be up to date on vaccinations, but not all pet owners are as diligent as you. Leashing your pet will also help from keeping it running off and becoming lost or injured. If your pet needs to run, find a nearby dog park – some communities even have their own!
Play/Exercise. Just as you need to stretch your legs, your pet needs some time to stretch theirs. If you crate your pet during the day, it is even more important to "run out their energy". Taking long walks, playing tug-of-war, or visiting your local dog park are great ways to let your pet out to have fun. Be mindful of maintenance.
If you have a scheduled maintenance request or visit, don't forget to make the necessary arrangements for your pet. Cats and dogs can be darters. And just because Fido is the nicest when you are home, doesn't mean he will act so kind when you're at work. This is also your pet's home and they want to protect it as you do. Not everyone wants to run to pet a dog they aren't familiar with (which may be slightly snarling).
Crate or sequester in a different room during maintenance visits. You can also bring in your pet to meet the office and maintenance staff often to let everyone get to know each other. As staff and furry family members become more comfortable, it may not be necessary to crate, but doing so will help curb any problems.
Pet-proof your home. Just like adding a new baby into your home, you need to make sure your home is suitable for a pet. If you have hard surfaces that scratch easily, add a rug. Cover furniture your pets are allowed on (especially if it is rented furniture). Put up baby gates to keep animals from certain rooms. Crate during the day to avoid any baseboard eating or scratching. While potty training, use pads to help keep any potential damage to one area.
Grooming. Pet dander can build up over time and can create odors that are difficult to make go away. Make sure to have your furry family member groomed regularly. This doesn't mean you have to take them to a groomer. It's just as easy to bathe and brush them at home (especially if the animal is a breed that doesn't actually need a groomer's touch). Regularly clean your carpets (especially if your pet isn't as house trained as you would prefer). Pet hair can also get stuck in air vents making your HVAC system work harder and less effectively. If you are a pet owner, check your air filters at least once a month to make sure they don't need changing.
Curb barking. In a shared space, it shouldn't come as a surprise to hear your neighbors a little. Dog barks; however, can be more disturbing than some random door slam, especially if it happens for long periods of time. Get to know your dog. Is he anxious? Does she seem bothered by people walking by? Just because your dog is quiet around you does not mean he is quiet when you're gone. Moving into a new place takes more of an adjustment period for a dog than a human. Keep blinds closed. Crate train until Fido becomes more comfortable or keep him in one room.
Use a thunder vest. For more problematic dogs, try a barking deterrent device in your home.
Vaccinate/see the vet. Some apartment communities require updated vet/vaccination records and some do not. Regardless of your community's policies, it is wise to keep regular visits with your vet. Your furry family member will have a better life and you will feel secure knowing those around you will be safer.
Know the community's policies. Thoroughly read any policies regarding pets. Ask questions if you think a portion needs clarification or you don't understand. Typically, there are charges involved with not following policies (especially pet policies). These rules can feel restricting, but just know they are there to protect you, your family (furry or otherwise), and those around you. If you're thinking about adding a pet to your family, ask the office before making any decisions what the policies are.
Training. Life will be a lot easier with a trained pet in your apartment home. Your home will smell and look cleaner with a house-trained pet. Fido will be a cherished part of the community if he is well behaved than if he runs amuck and snaps. You and your pet will be happier living the trained life – whether you seek professional help or read Dog Training for Dummies.